Budgetly with Apple. A safer, contactless way to pay.
Pay with your phone. Quick and Secure Checkout with Apple Pay.
Now more than ever, Apple Pay is a better way to pay with your Budgetly card. It's contactless, safe and easy.
Add your Budgetly card to your Apple Wallet via the mobile app.
Pay safer and faster with Apple Pay.
When you make a purchase, Apple Pay uses a device-specific number and a unique transaction code. Your full card number is never stored on your device or on Apple servers, and it can't be shared with merchants. Apple Pay doesn't keep transaction information that can be tied back to you, ensuring all purchases are private.
Paying in stores
Apple Pay is the easier, faster way to pay in selected apps and on participating websites because you no longer have to create an account or fill out lengthy forms.
To pay in selected apps and on participating websites in Safari on your iPhone and iPad, select Apple Pay at check-out and complete the payment using Face ID or Touch ID.
To pay on participating websites in Safari on your Mac, select Apple Pay and complete the payment using your iPhone or Apple Watch. On Mac models with Touch ID, pay using Touch ID on the Touch Bar.
Where to pay
Use Apple Pay wherever you see one of these symbols.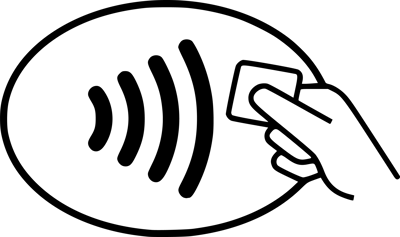 Step 1 In the Budgetly app, tap 'Add to Apple Wallet'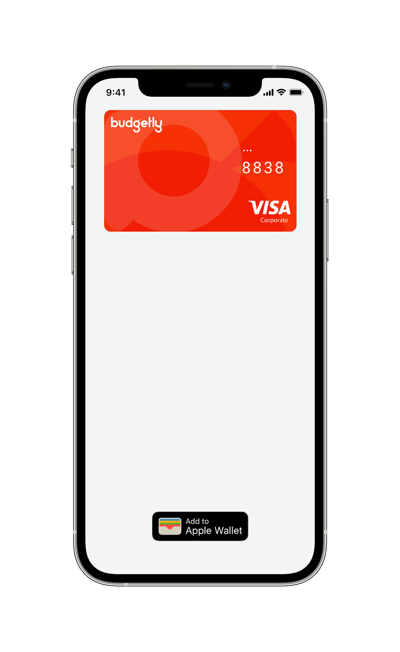 Step 2 Follow the prompts to 'Add Card'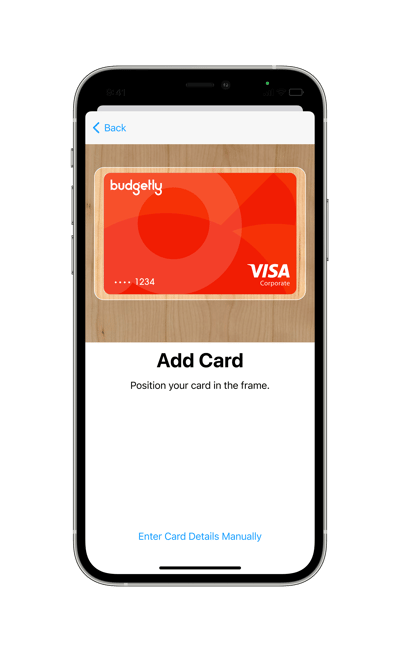 Step 3 Your card has now been added to Apple Wallet and you're ready to Tap and Pay easily and securely with Apple Pay.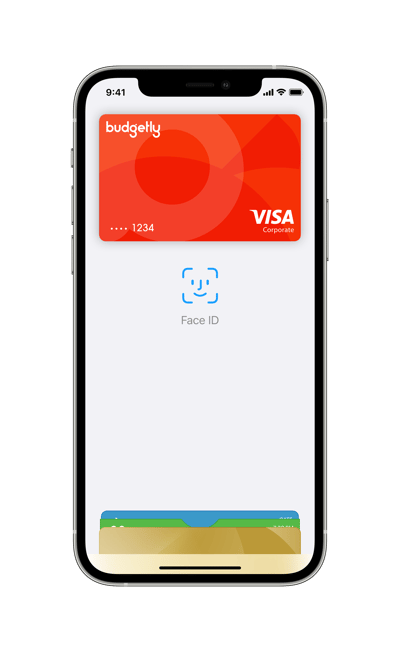 FAQs
Where can I use Apple Pay?
You can use Apple Pay to make payments at any merchant where contactless payments are accepted. Simply look for the contactless symbol or Apple Pay mark. You may also use Apple Pay in-app and on the web with Safari when you see the "Buy with Apple Pay" button or Apple Pay as a payment option.
What is my Device Account Number, and where can I find it?
All cards stored in Apple Pay are allocated a Device Account Number. This unique number ensures your payment information isn't stored on your device or shared with the merchant when making a payment. You can find your Device Account Number by opening the Wallet app, selecting your card and tapping the (i) symbol in the bottom right corner.
What Apple devices are compatible with Apple Pay?
Apple Pay works with iPhone 6 and later in stores, apps, and websites in Safari; with Apple Watch in stores and apps (requires iPhone 6 or later); with iPad Pro, iPad (5th generation), iPad Air 2, and iPad mini 3 and later in apps and websites in Safari; and with Mac (2012 or later) in Safari with an Apple Pay-enabled iPhone or Apple Watch. For a list of compatible Apple Pay devices, see here.
Which cards are eligible for Apple Pay?
All Budgetly cards are eligible for Apple Pay.
Where can I find out more information about Apple Pay?
To find out more information on how to make secure payments and set up Apple Pay with your Card, please visit our Apple Pay webpage or https://www.apple.com/au/apple-pay/
What is a virtual corporate card?
Virtual corporate cards work the same way as a physical plastic card, the only difference is that the virtual corporate card lives in your mobile phone instead of your wallet. The Budgetly virtual VISA card is a reloadable prepaid card that can be used anywhere online or in-store that VISA is accepted. To use your Budgetly cards you need to first have an active Budget with funds available in your Budgetly account.